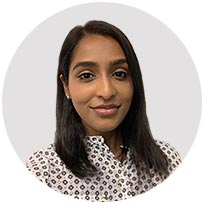 Nishie Govender
Psychologist
I am committed to a non-judgemental, holistic and tailored approach allowing people to feel safe and validated. I work with clients from many backgrounds who are mainly children, adolescents and adults under 40 years old.
I work with people who are experiencing a range of difficulties that may include depression, anxiety, specific phobias, grief, trauma, work / study stress and warmly collaborate with them to overcome these barriers.
I am passionate about assisting people reach their goals and draw upon elements of Mindfulness, Schema Therapy, Acceptance and Commitment Therapy, Cognitive Behaviour Therapy and Emotion Focused Therapy to inform my therapeutic work.
I focus on rapport and building a therapeutic alliance with clients to allow sessions to include compassionate listening, supportive encouragement and practical tools and strategies toward better coping and resilience. I also prioritise education, understanding and developing insight as the foundation toward progress.