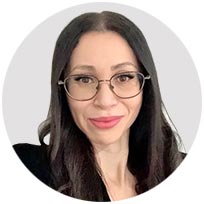 Veronica Midon
Clinical Psychologist
Available online
Life is often likened to a rollercoaster; sometimes exciting, sometimes scary, full of peaks and valleys, triumphs and struggles.
I am committed to supporting clients through challenging times, helping them to develop greater insight into their thoughts, emotions and behaviours to affect change and improve their wellbeing, as well as providing tools and strategies to cope with distress and navigate life transitions.
In my practice, I utilise a biopsychosocial approach, taking into consideration individual biological, psychological and social factors. I find this holistic approach provides a complete picture of clients' presenting concerns, which in turn, is helpful in identifying keys to health and recovery. I enjoy working collaboratively with clients, upholding principles of empowerment, safety and choice.
I work specifically with adults and draw on components of cognitive behavioural therapy and schema therapy to assist in the management of anxiety, depression, stress, chronic health conditions and trauma.