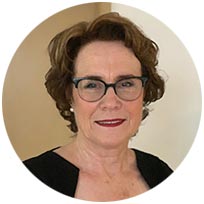 Psychology Melbourne was founded by our director and principal psychologist, Jill Wright, MAPS, AAFT, AICD in 2007 and has evolved from a small clinical practice to a national organisation employing more than 45 psychologists servicing individuals, organisations and corporate clients.
Psychology Melbourne is committed to helping people improve their mental health and wellbeing, assisting them through personal, work and relationship difficulties and introducing them to strategies that can fundamentally change and enrich their lives. It also works with organisations to hep them create psychologically healthy workplaces and provide Employee Assistance Programs that improve productivity by helping their staff deal with personal and work-related difficulties.
Jill has been twice elected General Director of the Australian Psychological Society, which is the profession's peak body. She established and over more than a decade supervised the APS's Melbourne branch study group network, which fosters the professional development of psychologists, keeping them up to date with advances in the practice of psychology.
Psychology Melbourne maintains rigorous professional discipline and constantly strives to contribute to improving standards of practice in psychology, in line with the code of ethics and registered with AHPRA as healthcare practitioners.
Confidentiality at Psychology Melbourne
As part of providing counselling at Psychology Melbourne your psychologist will need to collect and record personal information from you that is relevant to your current situation. This information is gathered as part of your assessment, diagnosis and treatment and is kept highly confidential. The information is retained in order to document what happens during sessions, and enables our psychologists to provide a relevant and informed clinical service.
You may access the material recorded in your file upon request, subject to the exceptions in National Privacy Principle 6.
All personal information gathered by our psychologists will remain confidential and secure except when:
It is subpoenaed by a court, or

Failure to disclose information would place you or another person at risk, or

Your prior approval has been obtained to:

Provide a written report to another professional agency e.g. a General Practitioner or a lawyer, or
Discuss the material with another person, e.g., a parent or employer.
How Psychology Melbourne will work for you
At Psychology Melbourne, we take care to ensure that our clients make continued progress in their therapy and achieve their goals. Studies have shown that the relationship between the client and therapist is the single most important factor in the success of counselling.
Therapy is an intimate experience and research shows repeatedly that if that therapeutic relationship doesn't work, clients are likely to walk away and give up. International studies suggest that too many clients drop out of therapy before their goals are met, largely because early difficulties are not identified and addressed. We believe that it is the psychologist's responsibility constantly to monitor that relationship and act immediately to address any problems, and we have developed additional training in this essential area of practice to develop our psychologists' expertise beyond their academic studies.
At Psychology Melbourne, we do not simply assign clients to the first available psychologist. Instead we maximise the chance of a good match through our initial matching session.
We follow this up by regularly tracking satisfaction, moving quickly to resolve any problems. The fact that our clients report a consistently high level of satisfaction with their treatment indicates that our approach works.
For further information or to make an appointment, email us or phone our friendly reception team on 1300 161 639.