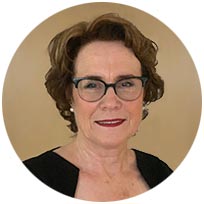 Jill Wright
Principal Psychologist
Melbourne CBD & online
When I began my practice in the early 90's after raising a family, I chose a quote from Henry David Thoreau for my first brochure: 'Things do not change. We change.'
It's as relevant today as it was in the 19th Century. Most of us want others to change, thinking that will change everything. But the opposite is true. Things change only if we change. For so many years now I have seen people change their behaviour, thoughts and feelings, and blossom with new understandings and possibilities.
People often ask me what approach I use. I have been deeply influenced by many approaches including psychodynamic therapy, Jungian dream analysis, Neo-Freudian psychotherapy, Family Systems Theory, CBT, ACT, and neuro-psychotherapy. This rich history of ideas has provided me with a toolbag full of wonderful strategies and insights that I can pass on to others.
But the greatest skill of all and the hardest to achieve has been the ability to listen deeply to what my clients are trying to tell me, even when they don't themselves hear what they are saying. I work hard to pick up the thread of underlying issues that brought them to therapy and help them effect lasting change.