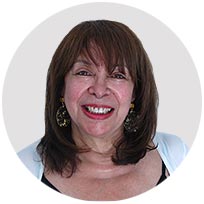 Dr Mariel Sanchez-Rockliffe
Counselling Psychologist
Available online
Maybe you find yourself constantly stressed, anxious, angry or sad. Maybe your personal relationships are suffering. Your life just isn't working. You know something's wrong, but you don't know what it is or what to do about it.
I can help you acquire the insight to see your difficulties for what they are—to see the world and your place in it through new eyes. In this way you can chart a way through to achieve lasting change.
I am registered psychologist with twenty years' experience working with individuals, couples and families.
I offer a friendly and practical approach that creates a safe and comfortable environment in which to explore your problems and foster positive change. Drawing on my own experience of life transitions I bring a personal perspective, and as a migrant myself I relate to different cultural backgrounds.
I am particularly qualified in helping individuals, couples and families sort through the issues and dysfunctional patterns that prevent them enjoying their relationships. Troubled relationships can be reinvigorated by clear minds to regain the openness, joy and flow that are the hallmarks of health.