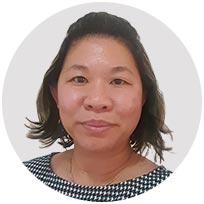 Magdalene Sng
Psychologist
Available online
Magdalene is a Registered Psychologist who completed her studies in psychology at Murdoch University. She also has a Masters in Counselling which focused on Cognitive Behavioural Therapy. She is fluent in English, Mandarin, Hokkien and Teochew.
Magdalene has worked with children, adolescents and adults who present with wide range of issues including, development and behaviour issues, anger management, depression, anxiety, grief and loss, self-esteem and confidence, assertiveness, trauma, postnatal, couples, stress, drug and alcohol issues.
Magdalene uses positive structure, goals and problem-solving skills to empower clients to make the shift they need to find the outcome to their issues and total wellbeing. Magdalene establishes good rapport with clients to establish a good therapeutic relationship.
As a therapist, she uses motivational interviewing, psychoeducation, Reality and Choice Therapy and evidence-based interventions such a Cognitive Behavioural Therapy, Solution Focus Brief Therapy and play-based therapy to support clients to positive outcomes.