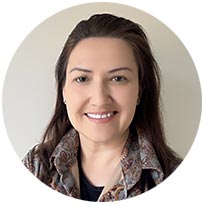 Canan Suucak
Registered Psychologist
Available online
Canan is a Registered Psychologist and Board Approved Supervisor, and has 17+ years of experience in psychology. Some of her roles were school counsellor, psychologist, supervisor and lecturer.
She has seen clients and students from 32 countries so far, and she mainly focuses on providing unique and culturally appropriate psychology to each individual. She specifically engages half of her time with teenagers and young adults (11 to 28 years old) who experience a variety of life stressors.
She believes that the most therapeutic tool in therapy is listening carefully with a curious mind and providing the best possible attention. She tailors her therapy sessions according to her client's needs, opinions as well as their readiness.
Canan sees therapy as a part of our daily life and one of our daily needs. She always uses a positive and holistic approach while welcoming you to her virtual therapy room.
Canan can provide counselling in English and Turkish.