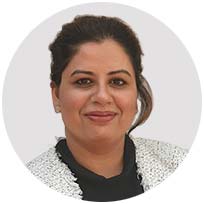 Prabha Mishra
Registered Psychologist
Prabha Mishra is a Registered Psychologist who completed her studies in psychology at the Cairn Millar Institute. She is fluent in English and Hindi.
Prabha has worked with children, adolescents and adults presenting with a wide range of issues including mood disorders, depression, anxiety, grief/loss, self-esteem, assertiveness, perfectionism, and school/workplace/career transitions.
Prabha is compassionate, caring and works towards providing a safe, non-judgmental, and collaborative space to empower clients to create meaningful changes in their lives and enhance overall well-being. Prabha is passionate about building strong rapport with clients and establishing a collaborative relationship.
As a practitioner, her belief is that 'no one size fits all' and so uses a combination of psychoeducation and research-based interventions such as Cognitive Behavioural Therapy (CBT), Acceptance and Commitment Therapy (ACT) and play-based therapy to help support clients to reach their goals.