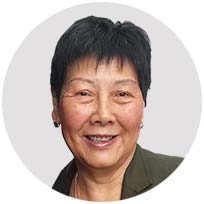 Judy Chow-Fairhall
Educational & Developmental Psychologist
I believe my effectiveness as a psychologist is my respect and confidence of the clients' inner strengths, resilience, sense of humour and the courage to do something different, and to facilitate the changes they wanted through their perception, emotions, beliefs and behaviours.
As a psychologist, I am mindful and respectful of the trust that my clients have in me, and are willing to share some of their life journeys. I feel privileged to be able to share my experience and knowledge, and to be a "sounding board" for them, and for them to reflect and search for their own solution, and develop better ways to communicate with their loved ones.
I have been working as a psychologist for many years, enjoy my work, and feel very fortunate to have the opportunity to work with children, adults, couples, and families from diverse cultures and ethnicities. I have worked in different countries, and various settings including acute psychiatric service, natural disasters, traumatic stress, pain management, children and adults with special needs, and dependency issues.
Each person has his/her individual story and journey, and may suffer from emotional distress, such as anxiety, depression, stress and burn-out, and each has varying levels of resilience to live a more fulfilling life. I employ integrative therapy that blends elements from different approaches such as psycho-education, coaching, solution-focus, mindfulness, and cognitive emotional behaviour therapy to enhance the person's resilience, and to develop options.
Judy is also fluent in Chinese – Mandarin (Putonghua), Cantonese, Shanghainese and Tok Pisin.