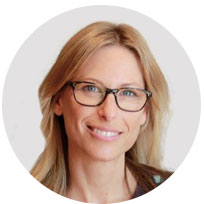 Romi Kaufman
Generalist Psychologist
Bookings available at:
Malvern on Mondays, Tuesdays & Wednesdays
Richmond on Fridays
Call us on 03 9629 1001 to book now
Romi is a registered psychologist who specialises in helping adults and adolescents to productively manage a variety of life challenges to strengthen and maintain their personal and interpersonal wellbeing. She provides short to long term therapy for clients presenting with a range of issues, guided by knowledge and experience gained through many years of practise.
Romi was the Senior Psychologist | Head of Clinical Care & Wellbeing at The Reach Foundation ror eight years alongside her work in private practice. She is a specialist in the field of positive psychology, having been one of only a select handful of registered psychologists in Australia who has trained with the University of Pennsylvania's Professor Martin Seligman, the discipline's father. She co-created with the Black Dog Institute a world first web-based positive psychology program (BITEBACK) that has been shown to reduce anxiety and depression and increase life satisfaction; she taught the mindfulness based Health Enhancement Program to Medical students at Monash University; consulted on the development of the Smiling Mind Mindfulness App; and has been a speaker at a number of international conferences, including:
4th World Congress on Positive Psychology (2015)
4th Australian Positive Psychology & Wellbeing Conference (2014)
Teaching health & Wellbeing conference (2008)
In 2013, Romi worked with Malvern Central School to create the first whole school positive education program in a Victorian government school, applying the principles of positive psychology to school staff, students and their parents. At the request of the Commonwealth Secretariat, this Positive Psychology Training & Consultancy Program was published and presented as an example of innovative practice at the 8th Commonwealth Youth Ministers Meeting in Papua New Guinea (March 2013).
She works collaboratively with clients, creating a safe and respectful environment in which to explore mental health and personal challenges, and realise the potential to lead happy and engaged lives.