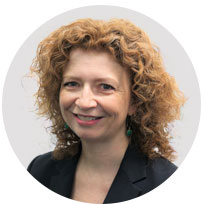 Andrea Larkins
Counselling Psychologist
Bookings available at: Melbourne CBD on Mondays, Wednesdays and Thursdays.
I work with clients to establish a warm, respectful and non-judgmental relationship that provides the space and the support to explore current difficulties and relevant past experiences. It's so important in this work to feel supported and understood.
What my clients tell me is that this process develops their ability to notice where they are stuck and to come up with new ways of thinking about their difficulties. As their understanding develops, they discover new approaches to managing distress.
I work with many clients from a wide range of backgrounds and ages who are experiencing a variety of difficulties that may include depression, anxiety, grief, trauma, work or study stress. I also help people deal with identity and life transition issues and difficulties that centre around key relationships – past and present – including self-esteem, which is essentially one's relationship with oneself.
I believe it's important to tailor the therapy to meet my clients' individual needs and to suit their personality and in doing so I will draw on a range of therapy techniques as appropriate.
I feel it's a great privilege to work with clients who have the courage and commitment to come to therapy and work towards developing a more fulfilling life.