Working out work to benefit parents and kids
Edited by Jill Wright,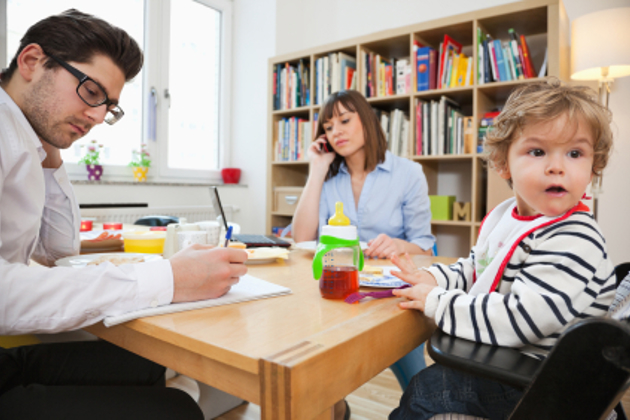 One of the questions raised by Australian Population Census data of recent decades is whether we might be experiencing the era of the disappearing parent.
The data, picked up in a report on family trends compiled by the Australian Institute of Family Studies, shows that among families with children under 18, the proportion of mothers in the workforce has steadily increased from 55 per cent to 65 per cent in the 20 years to 2011. The rate is even higher - 68 per cent - in two-parent families, compared to 57 per cent in single-parent famlies.
Fortunately, there's a growing trend among some fathers to work part-time, and share the parenting and household duties.
Dr Jennifer Baxter, a Senior Research Fellow at the institute, told the Fairfax-owned Essential Baby website in an article by
Lilani Goonesena published this week, that the trend is being driven by the parenting attitudes of newer generations of fathers who have "a greater awareness and interest in raising their children, and a willingness to cut back their hours to do that".
One of Psychology Melbourne's family and child psychologists, Dr Christina Tuke Flanders, contributed to the article.
As more modern families seek help to work out their parenting issues against a background of increasing financial stress, which is a major contributor to marital breakdowns, Christina works with a lot of couples to help them navigate the issues.
It is something, she says, that has to be thought through very carefully, but she has a lot of stay-at-home fathers among her clients.
Christina observes that parents who both choose to work part-time, favouring family over finances, get the best of both worlds.
"Parents need to ask themselves whether it is financially viable and to make some short-term sacrifices," she says, but the rewards are clear.
"Those first three to five years are quite precious and you're not going to get those early years back."
And there are childhood development issues that must also be considered, she says.
"The period from birth to five years is the attachment period and that's really important for the long-term wellbeing of children."
Christina identifies other other advantages for children who experience both parents working and sharing home duties. It gives them a much broader perspective than children raised by traditional social norms.
"It's a very powerful influence on children to see their mother engaging in a meaningful career," she says. Her observation is underscored by the fact that so many women who have themselves been influenced by traditional values, feel their career is over if they have children.
The couples that Christina works with value the careers of each partner equally. That reduces the pressures on new mothers returning to the workforce after maternity leave.
There is less guilt about putting children into daycare. Both parents spend time with the children and share equal responsibility for the house.
Tags