The psychology of office design - building in disruption
Edited by Jill Wright,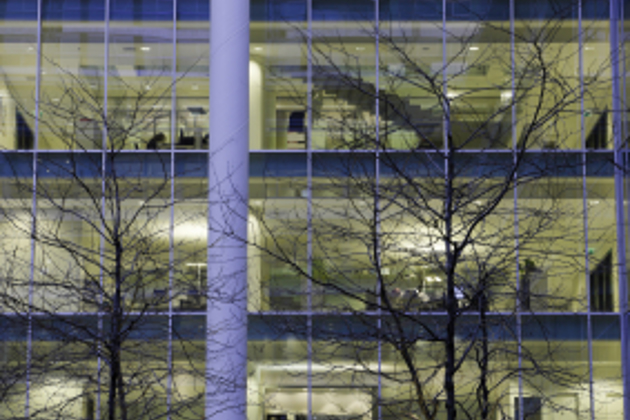 It's too bad Australian office managers and architects and designers don't generally listen to overseas radio programs, because in missing out on a BBC Radio 4 program called In Search of the Perfect Office, presented by Claudia Hammond, they lost the opportunity to discover just how much their choice of materials and use of space were costing them, in terms of lost productivity. They might therefore like to click on that link, and listen.
They will then discover that the materials they love, like stone, glass, steel and other metals, concrete, plasterboard and cheap tile ceilings lacking any acoustic properties and windows everywhere that reflect sound, result in noise that laboratory experiments indicate typically diminish the efficiency of the average office occupant by 10 to 20 per cent.
Dylan Jones, Professor of Psychology at Cardiff University, who is an expert on attention and memory, explains that the human hearing apparatus is an exquisitely refined system that acts as an early warning system that is tuned to detect any change in sound pattern.
Unfortunately, when deployed in a modern office, it keeps us in a highly alert state, disrupting our concentration. All sorts of sounds, including people with loud phone voices, disrupt our ability to perform sequential tasks.
Sound expert Julian Treasure, who recently delivered a fascinating TED talk on what one might call the deafness of architects, says that while noisy offices can have a devastating effect on the productivity of creative people - unless they happen to be noisy ones - offices that are too quiet are intimidating, because they cost people a sense of privacy. He recommends the use of masking sound ... but bird song, or running water or rainfall for instance, instead of that nasty pink noise some offices deploy.
At the University of Wolverhampton, extensive research by Jane Carstairs (who has since moved into a Midlands consultancy) revealed that job satisfaction and the amount of work completed by people who are moved to open plan offices, measurably declined, and that decline endured.
Hot desking, or the so-called "non-territorial work space" is a very efficient way to use space, but the rules that are generally enforced in these environments - no food, no clocks, no pictures, not wastepaper baskets, plants kept only in a drawer result in senior people retaining their territory and a battle for window seats. Personalised spaces help people cope with stress.
Unfortunately, you might find the clip ends just when the show moves on to a candidate for the perfect evidence-based office in the City of London, occupied four years ago by the not-for-profit National Association of Pension Funds.
Rather than looking like something designed for battery hens, it is organised in clusters so that members of departments can communicate easily, there are no restrictive rules and people actually seem to enjoy working there.
Psychologists have accumulated a lot of research on what matters in office environments, but apparently architects don't seem to have the time to read it and therefore go on making the same mistakes.
The most important thing, the research shows, is location. People also value daylight, and a view, preferably of nature. They also seek security: an absence of things that are likely to alarm them, or make them feel less valued.
Tags