The psychology of absences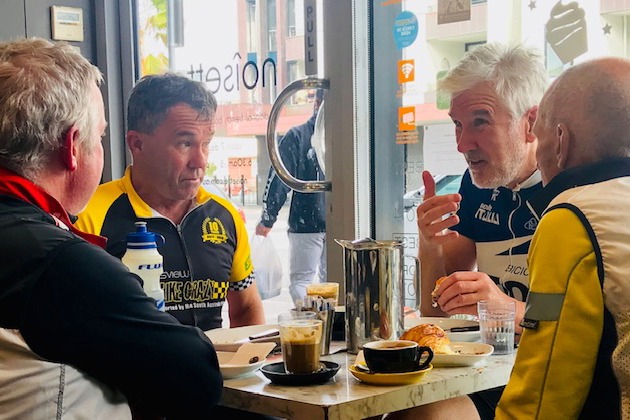 A couple of months ago, one of my classmates in a U3A course on iPhone photography submitted a shot she had taken as part of a class assignment. It was a brilliant image. The photographer, Sari Best, had captured a typical Melbourne weekend ritual: a group men having breakfast with a side order of animated conversation. They were wearing Lycra, and you knew that somewhere outside, there would be four drop-bar road bikes, secured to convenient tethering points.
This particular group happened to be at Noisette bakery and cafe in Port Melbourne. But on any Melbourne weekend you'd have found hundreds more in bayside cafes and coffee shops, taking refreshments after their weekend bike ride. The beach-side bike ride has become a weekend tradition, drawing thousands of cyclists to form hectic pelotons or more leisurely groups along Beaconsfield Parade and Beach Road and back
It was a sunny morning and the people Sari framed on her iPhone's LCD screen were now sharing an easy camaraderie over croissants and coffee.
They weren't there last Saturday. Not even the table was there. There were just two customers in Noisette and neither was having breakfast. By force of law, our cafes and restaurants serve takeaways only. Mingling with our friends at such close distances is also off the menu. To ignore that would be to risk our health and a substantial fine.
For that matter, the U3A photography course has been cancelled. It's quite a challenge these days to take a group photograph.
Like so many of the things that we took for granted in the past, we tend to appreciate their real value and significance only because of their sudden, unanticipated absence.
To be deprived of intimate spaces like cafes is to be deprived of much more than cappuccinos and lattes, perfect poached eggs or smashed avocado on toast. It's a deprivation of culture and community.
As the American sociologist Ray Oldenburg observes in the second edition of his book, The Great Good Place, dedicated to places like these - and he includes among them bookstores and bars and hairdressing salons etc. - are essential to the informal public life of society. In these, the so-called Third Place - not the home and not the workplace - you find the political forum of the common man, and a place for gossip, deep conversation, hilarious exchanges - the full gamut of discourse.
We grieve for their loss, as we might lament the death of a loved friend. How many of our significant life events have we experienced in places like this? Anniversaries, first dates, important business deals. And in many cases, we have developed friendships with the people who own and work in these places. We know that they are doing it tough; that they have lost jobs and income and potentially the future of their business.
The Washington Post's food critic, Tom Sietsema, wrote about that recently in a piece headed "The New Order - What We Lose When Restaurants Close". Sietsema talked to one of the world's top authorities on grief, David Kessler, after he realised that driving past the shuttered windows of his favourite restaurants brought a lump to his throat.
"Grief is a no-judgment zone," Kessler, author of Finding Meaning: The Sixth Stage of Grief, told him. "The idea that someone lost their job and you mourn the loss of not being able to go out is not paradoxical. Restaurants are the backdrop to our lives, good times and bad."
Sietsema writes: "On his late son's birthday and the anniversary of his death, Kessler honours him by visiting his favorite place to eat, Little Toni's pizzeria in North Hollywood. Kessler hasn't figured out when or if he'll have a place to celebrate a life this year."
The food critic points out that "The devotion to any restaurant starts with an essential trust — someone you don't necessarily know is preparing something to go in your mouth."
And he observes that "Attempts to re-create the experience from the confines of our own four walls have been error-prone, ingredient-deficient and without an artisan's grace notes. Zoom might be good for confabs with colleagues and chats with loved ones. But video conferences can't replace cooking aromas or sitting knee-to-knee with someone you care about."
Image by Sari Best
Tags