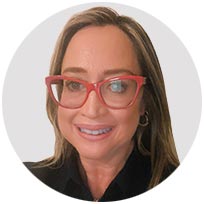 Adriana Vorster
Testing & Assessments Psychologist
Psychological assessments can be a very helpful process in identifying strengths and development areas especially with regards to personal development and/or treatment planning.
Initially Adriana's experience in psychological assessments started within the domain of career assessments where she used a range of interest-, personality-, aptitude- and values-based assessments to assist clients exploring suitable career options.
Maintaining an interest in psychological assessments, she then worked as a workplace assessor gaining further experience in achievement-based testing as well as a range of cognitive based tests gaining accreditation in the administration and use of a wide range of assessments. She has also been involved in the standardisation of both a personality measure and an emotional intelligence ability-based test.
Clinically, Adriana has a specific interest in the assessment and treatment of neurodevelopmental difficulties such as attention deficit hyperactive disorder (ADHD) emerging for adults and the challenges they may face in their workplace.
She is currently busy completing her placement as part of further post-registration studies in Clinical Psychology and provides comprehensive Mental Health-, Personality- and ADHD assessments for adults to assist with their treatment planning.