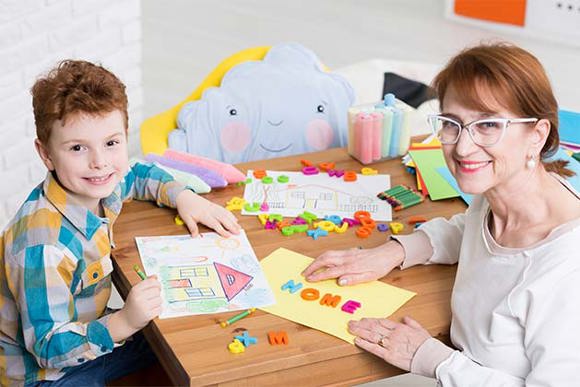 The aim of the ADHD assessment is to explore a child's behaviour and developmental history over 4 hours of interviews with the child, the parents and other professionals.
Children can exhibit Attention Deficit Hyperactivity Disorder (ADHD) symptoms before age 12, and in some cases as early as 3 years of age. Symptoms include:
Inattention - will often have difficulty concentrating

Impulsivity - will often interrupt others

Hyperactivity - will often be in constant motion and unable to sit still
Not every child who is overly hyperactive, inattentive, or impulsive has ADHD. Many children blurt out things they didn't mean to say, bounce from one task to another, or become forgetful.
ADHD is thought to be genetic as research shows that parents and siblings of ADHD children are more likely to have ADHD themselves. Although ADHD is not a form of autism spectrum disorder (ASD), many of their symptoms overlap, making is difficult to diagnose.
To assess whether a child has ADHD, we consider several critical questions: are they experiencing a continuous problem and not just a response to a temporary situation? Do their behaviours occur in several settings or only in one specific place like the playground or the office?
The child's pattern of behaviour is compared against a set of criteria and characteristics of the disorder. Clinical observation and interviews with relatives are conducted to rule out potential causes including learning difficulties, oppositional issues, mood problems and medical conditions.
The ADHD screening and other assessment measures are completed by the child and some family members who can provide a developmental and behavioural history. Medical, pediatric, or psychiatric information may be required for further diagnosis.
The comprehensive Child ADHD assessment is conducted over 4 sessions with an experienced psychologist.
It includes:
3 x 1 - hour interviews - a combination of interviews and observation of the child, interviews with parents and other professionals

Administration of ADHD rating scales and other screening tests

An Interpretative Report with recommendations for future actions

1 x 1- hour feedback session in which a written report is presented and discussed.
How long does a psychological test take?
Psychological tests take a different amount of time to complete, depending on the complexity of the test. Some tests, such as the Personality test takes about 45 minutes, but other tests such as the IQ test can take up to 2 hours. You need to speak to our Client Services Team to discuss the length of the test you are interested in.
Once you have completed the test, you will commence your 3 consultations with test psychologist. Your psychologist will discuss the reasons for your testing, take a background history and explain your results to you. They will also make recommendations for future treatment.
Can I do the test online?
Yes. Some tests, such as personality tests, can easily be done online so that you don't have to leave home. We email you the link to the test you have chosen and when you have completed it, your results will be added to your file for your psychologist t oread and discuss with you.
We will then email you the video instructions prior to your appointment with your psychologist either on your phone, iPad, laptop or desktop if you have a camera for it. It is best to connect to the link at least 15 minutes before your session in case there are any problems. If you have any problems, contact reception on (03) 9629 1001 or email CBD@psychologymelbourne.com.au.
You should wait in the waiting room until your psychologist appears. If there is a problem, contact reception as above.
Will my testing be face-to-face?
Some tests are more complex and require in-person or face-to-face administration. This allows the psychologist to observe the persons behaviour more closely, especially for children. For example, Adult and Child Autism testing must be completed face-to-face, while Personality testing can be done online.
Our Client Services Team will be able to tell you whether the test you have chosen needs to be done in-person or online.
We have psychologists in various locations in Melbourne, including the CBD, Port Melbourne, Sandringham and Balwyn, who can do face-to-face testing for you. Call our Client Services Team on (03) 9629 1001 and they will be able to help identify the best location for you.
How do I book a testing?
For online testing, you first need to purchase the package you want from our SHOP. You can pay for this by VISA or MasterCard by calling our Client Services Team on (03) 9629 1001 or using our live Chat on the website. We have Afterpay available if you want to pay by instalments.
Once we receive your payment, Client services will contact you back to book in your test and arrange your appointments. The test may be sent to you online with clear instructions, or it may be done during one of your consultations.
How much do the psychological tests cost?
The pricing of our psychological testing ranges from $700 - $1,200 depending on the type of test you want. The pricing includes three clinical consultations, administration of the test, a a follow up Assessment report and recommendations for future actions.
Payments are required before we can book in your test appointments for you. You can do this on our shopping cart on the website or pay by credit card on the phone. Afterpay is available for paying by instalments.